The heat is upon us. Instead of shelling out $5 for another Starbucks iced frappe, how about trying a delicious and ICE COLD frappe or smoothie from McDonald's. Just as delicious. I promise!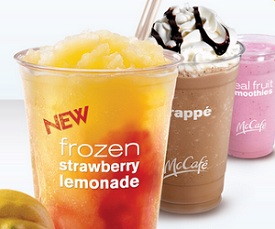 Woot! Have you tried McDonald's frozen drinks yet? Let me tell you, they are GOOD! Click
HERE
to print $1.00 off 1 Frozen Strawberry Lemonade, Frappe or Real Fruit Smoothie. The coupon is good on any sized drink now through June 15th!